Aretha Franklin Dead At Age 76
posted by Emily Lee -
Aug 17, 2018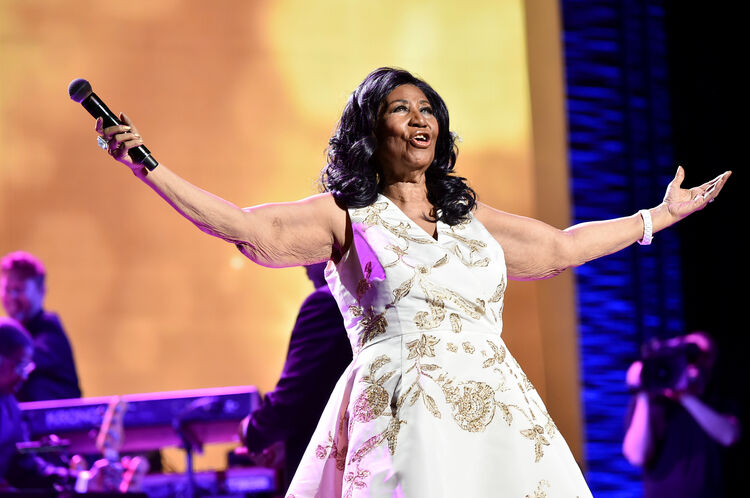 Aretha Franklin has died at the age of 76. According to the Associated Press, The Queen of Soul passed away in Detroit surrounded by her friends and family on Thursday (Aug. 16). Her family released a statement, calling Franklin's death "one of the darkest moments of our lives...we have lost the matriarch and rock of our family. The love she had for her children, grandchildren, nieces, nephews, and cousins knew no bounds."
Franklin's family also thanked her fans for the tremendous outpouring of love and support over the past few days. "Thank you for your compassion and prayers. We have felt your love for Aretha and it brings us comfort to know that her legacy will live on." They asked for privacy during this difficult time, as well.

Jeremy Diamond

✔

@JDiamond1

Statement from Aretha Franklin's family:
There were multiple reports on Monday (Aug. 13) that the singer was gravely ill. "I am so saddened to report that the Queen of Soul and my good friend, Aretha Franklin is gravely ill," Detroit news anchor Evrod Cassimy revealed via Twitter. "I spoke with her family members this morning. She is asking for your prayers at this time."
Franklin had been in poor health for some time. According to Rolling Stone, The Queen of Soul cancelled her scheduled 2018 tour dates after her doctor recommended she "stay off the road and rest completely for at least the next two months." Rumors circulated in 2010 that Franklin was battling pancreatic cancer, however, the singer denied those reports. TMZ reported on Monday (Aug. 13) that Franklin was, in fact, battling cancer before her death.
The iconic singer's last performance took place in November 2017 at Elton John's annual AIDS Foundation Gala. She performed a nine-song set, which included one of her greatest hits "Say a Little Prayer."
Franklin had 20 number one singles, including "Respect," "Bridge Over Troubled Water," and "Chain of Fools." She was the first woman to be inducted in the Rock and Roll Hall of Fame in 1987. Franklin was awarded both a Grammy Legend Award in 1991 and the Grammy Lifetime Achievement Award in 1994. She has 44 Grammy nominations overall and 18 wins.
During her lifetime, Franklin performed at the inauguration of 3 presidents: Jimmy Carter, Bill Clinton, and Barack Obama. She's received a star on the Hollywood Walk of Fame, was inducted into the NAACP Hall of Game, as well as inducted into the Apollo Theater Legends Hall of Fame.
In addition to those awards, Franklin was also a Kennedy Center Honoree, recipient of the National Medal of Arts, and received the Presidential Medal of Freedom. She holds an honorary degree from Harvard University, as well as honorary doctorates from Princeton University, Yale University, Brown University, Berklee College of Music, New England Conservatory of Music, and University of Michigan.
Rest in Peace, Aretha Franklin. You will be missed.