Close Up: iHeartRadio Podcast Awards Podcast of the Year Nominees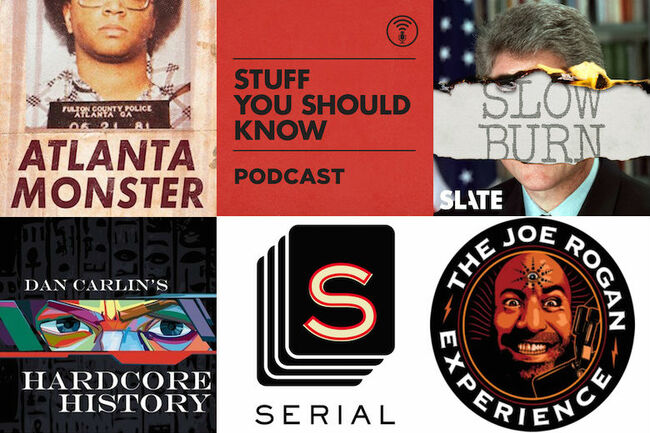 To celebrate all of the amazing podcasts that are listened to every day, iHeartRadio is holding the first-ever iHeartRadio Podcast Awards Presented By Capital One® on January 18, 2019 in Los Angeles at the iHeartRadio Theater.
iHeartRadio is the No. 1 commercial podcast publisher with 20,000 podcasts available. With 22 categories, the event will honor the most entertaining and innovative podcasts of 2018, as well as celebrate podcast fans by giving listeners the opportunity to decide the winners in 17 of the 22 categories with podcasts "Atlanta Monster," "Dirty John," "Hardcore History," "Joe Rogan," "Radiolab," "Serial," "Slow Burn," "Stuff You Should Know," "The Daily" and "The Habitat" nominated for Podcast of the Year.
That's right. YOU get to vote! Fans can vote for their favorite podcasts beginning today (Oct. 22) through January 6, 2018 online and socially across Twitter and Instagram. Visit iHeartRadio.com/PodcastAwards for a complete list of nominees and voting details.
Take a look in closer detail at all of the podcasts nominated for Podcast of the Year:
"Atlanta Monster"
Hosted by director, documentary filmmaker and podcast creator Payne Lindsey, "Atlanta Monster" takes an in-depth look at the Atlanta Child Murders that took place between 1979 and 1981, which claimed the lives of 25 victims.
"The Daily"
Hosted by Michael Barbaro, "The Daily" is the New York Times' 25-minute daily news podcast, that launched in January 2017, and gets over a million downloads each weekday. Barbaro recently explained on an episode of "Recode Decode" of the podcast, "You're not just gonna give the news upfront and talk about it for 15 or 20 minutes. You're going to treat the news — 'cause all great stories have a narrative arc to them — with the idea that there is suspense. What are you going to tell people at the start of a story versus the end? Where's the epiphany? Where's the emotional moment in the piece?"
"Dirty John"
Hosted by journalist Christopher Goffard, and created by Wondery and Los Angeles Times, "Dirty John" investigates the life of con man John Meehan and his relationship with business woman Debra Newell, as well as her family. The two met via a dating website, and the podcast explores themes of manipulation, abuse, and more. In the first six weeks of the podcast's launch (October 2017), it was downloaded over 10 million times, and recently inspired Bravo to create a show starring Connie Britton and Eric Bana.
"The Habitat"
Could there be a day when we can survive on Mars? Maybe. Hosted by Lynn Levy, "The Habitat" chronicles an experiment from a remote Hawaiian mountain that is meant to simulate the red planet, and what life would be like if we were ever to set foot there. The crew living in the habitat communicates via audio diaries that touch on a number of things including what they've discovered, their frustrations, relationships with each other, and more. They call it, "the true story of a fake planet." So, if you're wondering what life is like on Mars, this podcast is for you.
"Dan Carlin's Hardcore History"
Political commentator and podcast host Dan Carlin's "Hardcore History" podcast is what you wish history class was like. Since 2006, Carlin has explored many world history topics and figures, from Alexander the Great to The Cold War and beyond. Dan's podcast has already won several awards, and has received millions of downloads per episode.
"The Joe Rogan Experience"
Hosted by comedian Joe Rogan, "The Joe Rogan Experience," has become one of the most popular podcasts. After gaining its official title in 2010, by October 2015, the podcast was downloaded 16 million times each month. Guests on the show have included fellow comedians, actors, musicians, MMA fighters, authors, artists, and more.
"Radiolab"
Also already an award-winning program, "Radiolab" is hosted by Jad Abumrad and Robert Krulwich, and focuses on scientific and philosophical topics. You could say this is like the science class of your dreams, as the duo has spoken about a number of different things. In a New York Times interview, Krulwich explained, "Being not afraid to attack some of these very complex subjects is the real strategy here. We do our homework in front of the audience. We don't go to a library and study up and deliver a polished, finished, all-knowing product."
"Serial"
If you haven't binged this podcast yet, you definitely know someone who has. Hosted by journalist Sarah Koenig, "Serial" is another popular award-winning podcast "about the basics: love and death and justice and truth," as noted by Koenig herself. "Serial" season one focused on the murder of 18-year-old student Hae Mine Lee and her ex-boyfriend Adnan Masud Syed. Season two put the spotlight on an American Army soldier, Sergeant Bowe Bergdahl, who was held for five years by the Taliban and charged with desertion. And now, season three is currently ongoing and is focused on our criminal justice system.
"Slow Burn"
A politics-focused podcast, "Slow Burn" is produced by Slate Plus, which is a division of Slate and hosted by Leon Neyfakh. The show touches on major political scandals including the impeachment of President Bill Clinton and his controversy with Monica Lewinsky (season two) and the Watergate scandal (season one).
"Stuff You Should Know"
"Stuff You Should Know," also affectionately known as SYSK, is a series hosted by Josh Clark and Charles W. "Chuck" Bryant, and is one of the most popular podcasts in the world, appealing to a wide audience as the two discuss a number of different topics. Some of the most popular "Stuff You Should Know" episodes are the episodes centered around Spam, hangovers, Barbie, and tipping in restaurants, among others.