Close Up: iHeartRadio Podcast Awards Best Music Podcast Nominees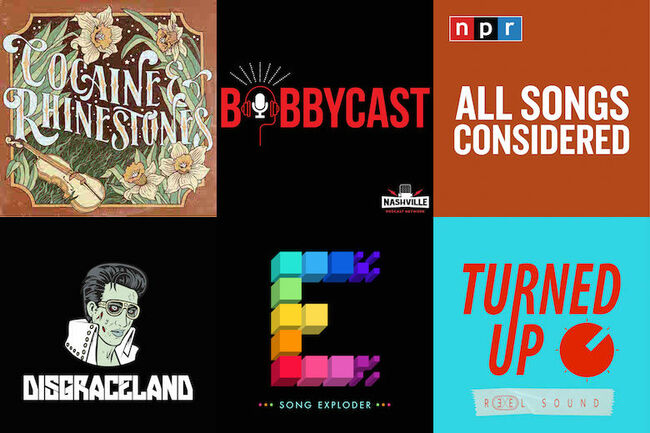 iHeartRadio is a place of music, but it's also a place of podcasts (with 20,000 podcasts available)! And it is during the upcoming first-ever iHeartRadio Podcast Awards Presented By Capital One® where both worlds will collide.
The inaugural iHeartRadio Podcast Awards will be held on January 18, 2019 in Los Angeles at the iHeartRadio Theater. With 22 categories, the event will honor the most entertaining and innovative podcasts of 2018, as well as celebrate podcast fans by giving listeners the opportunity to decide the winners in 17 of the 22 categories with podcasts "All Songs Considered," "Bobbycast," "Cocaine & Rhinestones: The History of Country Music," "Disgraceland," "Song Exploder," and "Turned Up" nominated for Best Music Podcast.
That's right. YOU get to vote! Fans can vote for their favorite podcasts beginning today (Oct. 22) through January 6, 2018 online and socially across Twitter and Instagram. Visit iHeartRadio.com/PodcastAwards for a complete list of nominees and voting details.
Take a look in closer detail at all of the podcasts nominated for Best Music Podcast:
"All Songs Considered"
Bob Boilen and Robin Hilton really do consider all songs on "All Songs Considered." The podcast takes an expansive, genre-spanning look at new music discoveries each week, features emerging artists, as well as music icons, the stories behind your favorite songs and new songs, and more.
"Bobbycast"
iHeartRadio's own Bobby Bones pulls back the curtain to shine the spotlight of some of Nashville's most talented artists, songwriters, and producers, as they talk about the stories behind some of their biggest songs, some incredible personal stories, and more.
"Cocaine & Rhinestones: The History of Country Music"
Well, if the name of this podcast doesn't draw you in, the content certainly will. "Cocaine & Rhinestones: The History of Country Music" debuted in October 2017 with 14 episodes in its inaugural season. Hosted by Tyler Mahan Coe, the son of country singer David Allan Coe, the show focuses on some of the mysteries of country music and its biggest stars. Some of the episodes in season one touched on the controversy over Loretta Lynn's "The Pill," the meaning behind Merle Haggard's "Okie from Muskogee" and more. Coe explained of Paste magazine of his podcast earlier this year, "I could not believe that it did not already exist. I wanted it to exist. I wanted to listen to it, but it wasn't there. When I realized it didn't exist, the immediate follow-up realization was that I was going to have to make it."
"Disgraceland"
No, this podcast is not about Elvis or the King of Rock's beloved Graceland. "Disgraceland" is actually a true crime podcast about musicians getting away with murder, and their bad behavior. With two seasons under its belt, the show delves into some of the darker corners of the music industry. Did Jerry Lee Lewis get away with murdering his fifth wife? How did Sid Vicious and Sam Cooke really die? These topics and more are all explored in "Disgraceland."
"Song Exploder"
Produced and edited by host and creator Hrishikesh Hirway, "Song Exploder" showcases some of the most talented musicians as they dissect their own songs, piece by piece, and how they brought their song to life. Guests of the show have included legends like U2, Metallica, Solange, and many more. So, if you really want to know what's going on in your favorite artist's mind while they are creating songs, this podcast is for you.
"Turned Up"
Ever wanted to know what really goes on in the music industry? The stuff that you don't really see? Producer/audio engineer/professional guitarist, Jake Jones and award winning producer/audio engineer, Robert Venable are giving music fans a peek into all of the behind the scenes operations in "Turned Up." The guys touch on a number of thought-provoking topics including music conspiracy theories, to the use of autotune, and more.