President George Herbert Walker Bush is dead. The country's 41st President, he was of course, the father of President George W. Bush. The elder Bush will be remembered for his dedication to traditional American values and public service. He passed just after 10 on Friday night, according to a statement by his spokesman. He was 94.
Bush entered politics in 1966 with a seat in the U.S. House of Representatives after building a successful oil business in Texas. From there, he was appointed to a series of high-level positions including United Nations Ambassador, Republican National Committee Chairman and CIA Director.
Before rising to the nation's highest office in 1988, Bush served as Vice President under Ronald Reagan

for two terms. And when it comes to looking back at his legacy, there are both good and bad moments to remember.
There was his infamous pledge about "no new taxes," which was ultimately broken.
The Cold War ended after 40 years and the Berlin Wall came down – and he also led a UN coalition into first Gulf War between 1990 and 1991 when Saddam Hussein

invaded Kuwait. Bush helped force the Iraqi withdrawal from Kuwait.
But he also ignored the plight of those suffering with HIV as the epidemic caught fire. Still, he and wife Barbara did ultimately understand the crisis – and are well known in their home state for working with local AIDS charities.
Former presidents are also considering the mark left by 41. His son, former President George W. Bush called his dad a man of the highest character and said the entire Bush family is deeply grateful for his life and love. Bill Clinton credits Bush with an "innate and genuine decency," adding that the friendship they shared will be "one of the greatest gifts" of his life. Jimmy Carter said Bush's administration was marked by grace, civility and social conscience, stressing that he fostered bipartisan support for citizen service. Barack Obama commended Bush for his 70 years of devoted service to the country, adding that he was a patriot and a humble servant. President Trump tweeted that 41's accomplishments "were great from beginning to end. He was a truly wonderful man and will be missed by all!"
The elder Bush will lie in state in Washington D.C. today through Wednesday before returning to his hometown of Houston. Once there, he'll lie in repose until a funeral service on Thursday. After that, he'll be transported by train (at his request) to Texas A&M University and the George Bush Presidential Library & Museum, where he'll be interred. As in the last part of his life, Mr. Bush will be accompanied by his service dog, Sully, on his flight to our nation's Capitol.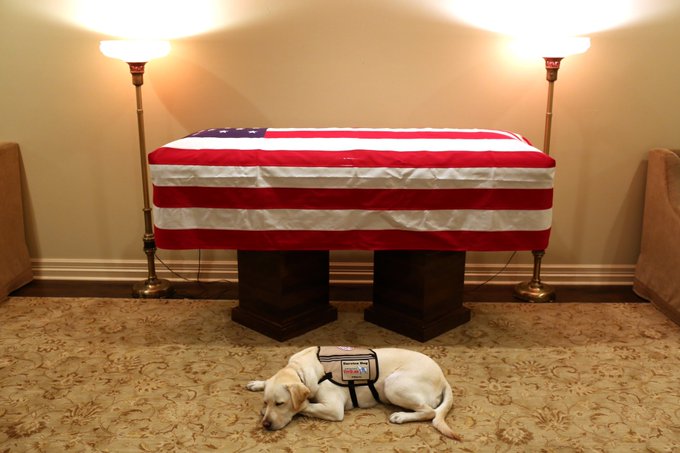 Jim McGrath

✔

@jgm41

Mission complete. #Remembering41